COMMERCIAL AND INDUSTRIAL HOLLOW METAL DOORS
Hollow Metal Doors are fabricated of channel reinforced sheet steel and filled with insulation materials such as polystyrene. Standard hollow metal doors are 1 3/4" thick and are prime coat painted (gray). Finish is suitable for painting.
Hollow Metal Doors are shown to have superior performance for strength and durability compared to the alternate materials. Steel can withstand more abuse, is more sanitary, and easier to maintain than wood, aluminum, and fiberglass. Because of their strength and durability, steel doors have the lowest total cost of ownership of any other materials.
We only provide metal doors from manufacturers that meet the strict guidelines of the Steel Door Institute (SDI).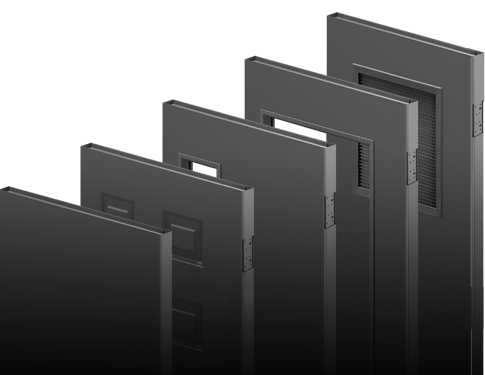 Replacement Doors available with hinge spacings from all manufacturers, including:
Steelcraft • Curries • Ceco • Republic • Mesker • Pioneer
STANDARD HOLLOW METAL DOOR DESIGNS
Standard door designs shown below. Custom designs available upon request.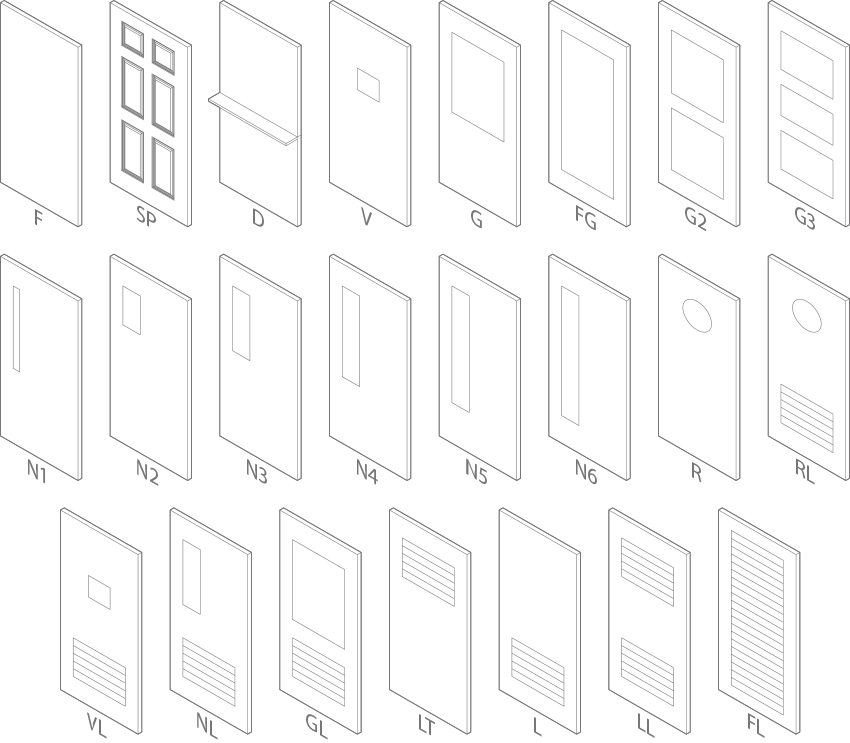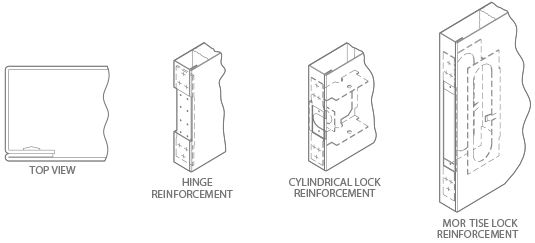 COMMERCIAL AND INDUSTRIAL HOLLOW METAL DOORS
Heavy Duty – Most Popular Model
18 Gauge – Cold Rolled or Galvanized Steel
1 3/4" Thick
Full Body Polystyrene Insulated Core
Non- Handed Design
Seamless Filled Edges
Closer Reinforcement
Hinge Reinforcement- Reversible
Flush Top Cap – Galvanized
Inverted Bottom Cap – Galvanized
Prime Painted Gray- Epoxy Factory Applied, Baked On
Standard Lock Preps Include 161 (Cylindrical Lock) , Fed 86 Edge (Mortise Lock), Deadbolt Lock, Panic Bar Reinforced
Prepared for Continuous Hinge Application
WHI / ITS up to 3 hour, Positive Pressure and "S" Smoke included
Meets or Exceeds Standards for ANSI 250.4 and ANSI 250.8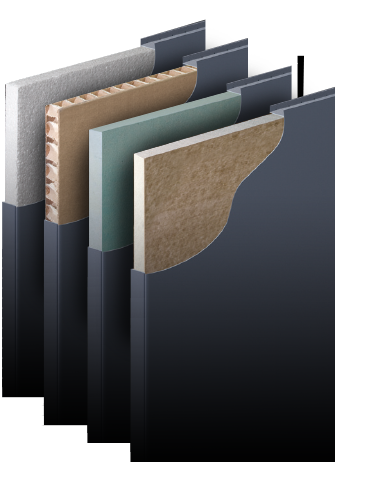 STANDARD HOLLOW METAL DOOR GRADES AND MODELS
Defined by Steel Door Institute (SDI)
LEVEL 1 STANDARD DUTY
20 gauge
1-3/8″ or 1¾" Thick Door
Model 1: Full flush
Model 2: Seamless
LEVEL 2 HEAVY DUTY
Most Popular Model (see above)
18 gauge
1¾" Thick Door
Model 1: Full flush
Model 2: Seamless
LEVEL 3 EXTRA HEAVY DUTY
16 gauge
1-3/4″
Model 1: Full flush
Model 2: Seamless
LEVEL 4 MAXIMUM DUTY
14 gauge
1-3/4″
Model 1: Full flush
Model 2: Seamless
HOLLOW METAL CORE TYPES
Honeycomb • Polystyrene • Polyurethane • Steel Stiffened • Temperature Rise Core